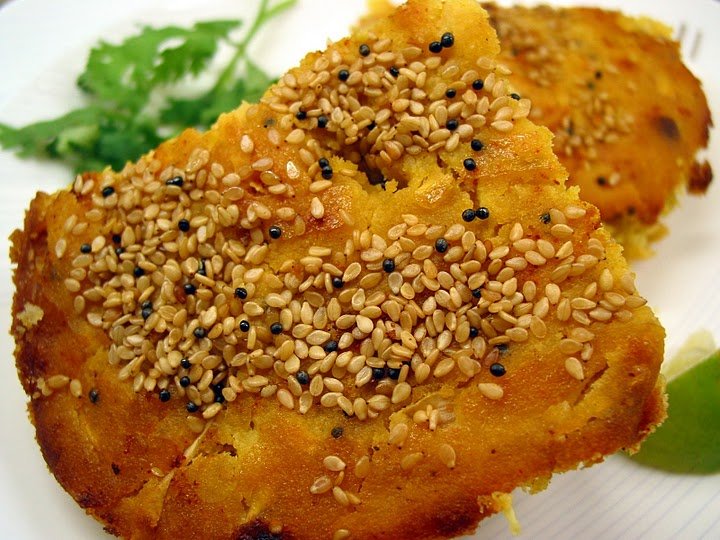 Handvo is a traditional Gujarati snack which is usually made from semolina. But in this recipe we are using rice instead of semolina you can also make the same recipe with semolina. Basically handvo is a Gujarati savory cake which is cooked in special handva utensils. If you don't want to make flour for handva at home then you can also bring readymade handva mixture to cook at home.
Ingredients
– 250 gm rice
– 150 gm tuvar dal
– 1 teaspoon turmeric powder
– 2 tablespoon garlic-ginger paste
– 1 1/2 cup butter milk
– 1 teaspoon castor sugar
– ? teaspoon mustard seeds
– 1 teaspoon oil
– A pinch of asafoeida
– 1 teaspoon sesame seeds
– 3 dry red chili
– Oil
– Salt to taste
How To Make?
1. Mix rice and tivar dal and crush it in a grinder and make a flour of it.
2. Now, transfer this flour to a bowl, add buttermilk and salt to it and mix it well. Cover it and keep aside to ferment for 6-8 hours.
3. When the mixture fermented add castor sugar, garlic-ginger paste, turmeric powder and mix it.
4. Now take a frying pan and add 1 tablespoon oil to it and then add mustard seeds.
5. When the mustard seeds crackle, add sesame seeds, asafetida and saut? them for 2-3 minute.
6. Now, in a handva utensils, spread the oil.
7. Add the batter to this utensils and then add tempered mixture on it. Now, cover and cook this batter on SLOW flame for 8-10 minutes until it turns golden brown in color.
8. Once the handva is ready. Let it cool slightly and then cut it into pieces.
9. Serve this handvo hot with oil.
Preparation Time: 15 Minute
Fermenting Time: 6-8 hours
Cooking Time: 40 Minutes