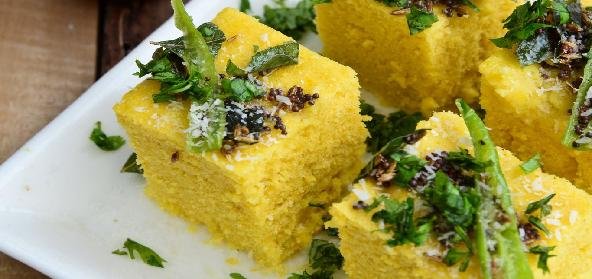 Ingredients:
• Dry grind together to a fine semolina texture:
• 1 cup – Rice
• 1 cup – Yellow moong dal
• Others:
• 1 medium – Bottle Gourd
• 3 tbsp- Coriander chopped
• 3-4 – Green chillies, finely chopped
• 3 cups – Buttermilk
• 3/4 tsp – Soda bicarb
• 1 tsp each- Urad and Channa dal
• 1/2 tsp each- Cumin and Mustard Seeds
• Salt to taste
• 4-5 tbsp- Oil.
Method:
Add the butter milk to a large vessel. Now add salt, soda, flour and mix well.
Keep aside for 6-7 hours.
Now grate the bottle gourd and squeeze out excess water.
Mix the gourd, coriander and green chilli.
Heat oil in a pan.
Splutter the urad and channa dals and seeds. Now pour half of it in the batter and mix thoroughly.
Add this to a greased oven proof deep container. Pour the remaining seasoning on the top.
Place this in a preheated oven at 280C for 10 minutes.
Reduce to 200C or 180C for 40 minutes or until done.
Check by inserting a skewer which should come out clean.
Slice into wedges and serve hot with chutney or lemon tea.
Recipe courtesy of Saroj Kering