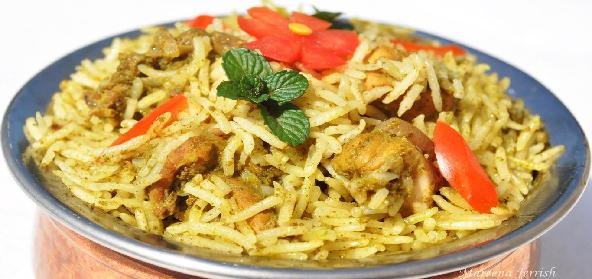 Ingredients:
• 500 g – Chicken
• 2 cups – chopped Coriander leaves
• 1/2 cup – chopped Mint leaves
• 7 Cloves – Garlic
• 1 inch piece – Ginger
• 6 – Green chillies
• 1/4 tsp – Turmeric powder
• 2 – thinly sliced Onions
• Juice – 1.5 limes
• 2 tbsp – Ghee
• 1 – Star anise
• 4 – green Cardamoms
• 5 – Cloves
• 1/2 tsp – Caraway seeds
• Salt to taste
• 2 cups – basmati Rice
Method:
Marinate the chicken with salt and lime juice for at least half an hour.
Grind the garlic, ginger and chillies to a fine paste and keep aside.
Heat ghee/oil in a pan and add cardamoms, star anise, cloves and caraway seeds.
When they start to splutter, add the onions and saute till they wilt.
Add the ginger-garlic-chilli paste and saute.
Meanwhile, grind the chopped coriander and mint leaves to a fine paste and keep aside.
When the raw smell of the ginger-garlic paste goes off, add turmeric powder and saute for a few seconds.
Immediately add the green paste and mix well.
Cook for a few minutes and add the marinated chicken.
Stir for a minute.
Add about 1.5 cups water and mix well.
Check for salt and add if needed.
Cover and cook till the chicken is done.
Drain the chicken to another plate and keep the stock.
Put washed rice into the pan and pour 2.5 cups of the green stock.
Mix well.
Cover and cook till rice is done.
Mix with the chicken and serve hot with raita.