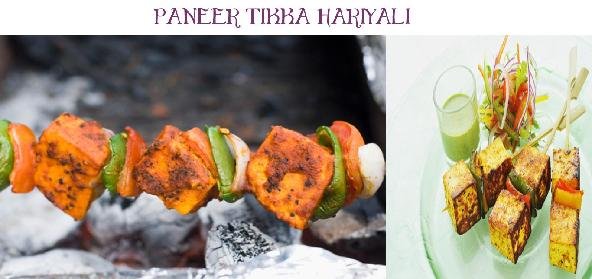 Ingredients:
• Paneer 400 g
• Curd 1 cup
• Coriander -2 bunch
• Mint 1 bunch
• Green chillies 4 to 6
• Garlic 30 gm
• Ginger Paste 1 tsp
• Grounded Garam Masala 1 tsp
• Chat masala 1 tsp
• Salt To taste
• Oil 1 tbsp
• Juice of two Lemons
Method:
Put coriander leaves, mint leaves, green chillies, garlic, ginger paste and lemon juice in a mixer and grind it to a paste.
Cut paneer into big slices.
To the ground mixture, add curd, salt, garam masala powder, chat masala powder oil.
Marinate paneer in this mixture for half an hour.
You can cook it in tandoor, or put little oil in a pan and cook it on high flame, or heat the oven to maximum heat and cook for 10 minutes.
Garnish with onion rings and serve hot.
Recipe courtesy of Sify Bawarchi