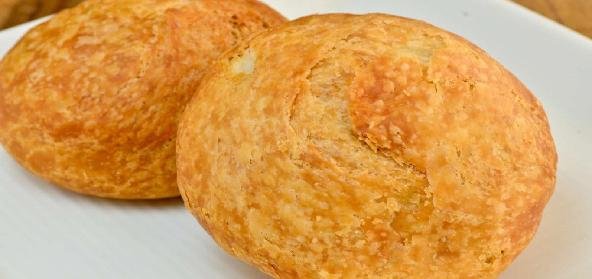 Ingredients:
• For Tokdi:
• 200 g – Maida
• 50 g – rava
• salt to taste
• For Filling:
• 2 cups – puffed Rice or kurmura
• 100 g – sev
• 1 cup – moong sprouts
• 1 – medium onion, minced
• 1 – medium tomato, finely chopped
• 1 – sweet green chilli, chopped
• 1 tsp – chopped Coriander leaves
• 1 – small cucumber, chopped
• 1 – medium potato, boiled and diced
• 1 – carrot, chopped
• 1 tbsp – chaat masala
• 1 tbsp – black salt
• plenty of ketchup
• salt to taste
Method:
Mix flour with rava and salt. Add enough water to form dough of medium consistency. Divide the dough into lime sized balls.
Take small steel katoris and grease them on the outside.
Form the dough into a cup in the palm of your hand.
Place the katori inside and cover it from outside with the dough.
Heat enough oil for deep-frying. Lower the heat.
Place the dough-covered katoris inside the oil.
When the dough starts leaving the katoris, remove the steel katoris
Fry the dough katoris till crisp and golden. Drain and set aside.
For the Bhel:
Heat 1 tsp of oil and fry the puffed rice.
Remove from fire and mix in the spices and salt.
Add the veggies and sprouts.
Mix in enough ketchup so that the bhel is well coated.
Fill the katoris with the bhel and decorate with sev and coriander leaves.
For added nutrition, you can mix in cashew nuts and groundnuts.
Recipe courtesy of Golden Reejsinghani