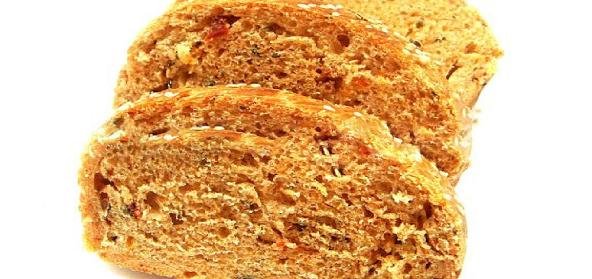 Ingredients:
• 2 cups – Whole Wheat flour
• 1/4 cup – Pumpkin puree
• 1 tsp – Cumin seeds
• 1 tbsp – Active Dry yeast
• 1/4 cup – Luke warm water
• 3 tbsp – Olive oil
• 1 tsp – Salt
• 1/2 tsp – Sugar
• 1/2 tsp – Red Chilli flakes
• 1 tbsp – Dry Parsley leaves
• 1 tbsp – Chopped Coriander leaves
• Few sesame seeds
Method:
Add the active dry yeast to the lukewarm water, with sugar and salt.
Keep in a warm place for 5 minutes, until the yeast turns foamy.
Meanwhile mix together the whole wheat flour, red chilli flakes, cumin seeds, chopped coriander leaves, dry parsley leaves in a large bowl.
Add, gradually the foamy yeast, pumpkin puree, warm water (if needed) and olive oil.
Knead into a soft and stiff dough.
Grease a bowl and place the dough, keep aside for 2 hours in a warm place.
Preheat the oven to 350F, line a baking sheet over a baking tray, grease loaf mould with olive oil.
Punch the dough down, knead well and form a loaf.
Brush the top with oil and sprinkle some sesame seeds.
Bake for 20-25 minutes, until the crust turns golden brown.
Cool completely and serve with spreads, soups or cheese.
Recipe Courtesy: Priya Easy N Tasty Recipes.