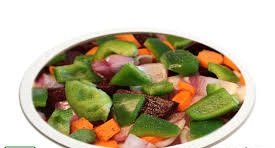 Honey gingered vegetables is a great combination of all seasonal vegetables with some honey and ginger flavor.
Ingredients
– 2 tablespoons grated ginger
– 2 tablespoon honey
– 1 tablespoon soy sauce
– 2 tablespoons lemon juice
– 500 gm butternut pumpkin, peeled and thinly sliced
– 1 cup frozen beans
– 2 sliced zucchinis
– 1 tablespoon sesame seeds
How To Cook?
1. In a large bowl, heat ginger, honey, soy sauce and lemon juice for 1 minute on HIGH flame.
2. Add pumpkin and cook covered for 5 minutes on HIGH flame, until just tender.
3. Stir in beans and zucchinis. Cook, covered a further 3 to 4 minutes in HIGH flame.
4. Soon onto a serving plate. Sprinkle with sesame seeds.
Preparation Time: 10-15 Minutes
Cooking Time: 20 Minutes