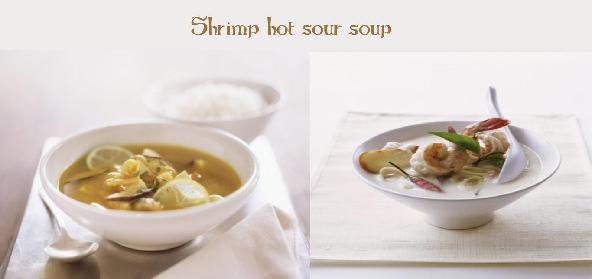 Ingredients:
• 400 g – medium Prawns
• 1 tsp – roughly chopped Garlic
• 3 – dried or fresh kaffir Lime leaves
• 4 – Red Chillies
• 1 stalk – Lemon grass, thick base only, roughly chopped
• 1 tbsp – roughly chopped fresh coriander
• 2 – spring onions, finely chopped
• 1 – red chilli, extra finely chopped
• 6 tbsp – fish sauce
• 2 tbsp – Lime juice
• 1 tbsp – oil
• 6 cups – water
• 1/2 tsp – salt
Method:
Peel and devein prawns.
Reserve heads and shells.
Heat the oil in a pan and, when very hot, add the prawn shells and heads.
Cook over high heat until they turn pink.
Add the water, garlic, salt, lime leaves, chillies and lemon grass.
Bring to the boil, reduce to a simmer and cook, uncovered for 15 minutes.
Strain the stock into a clean pan through a double thickness of paper towel placed in a sieve.
Add prawns and bring mixture to a simmer.
Continue cooking until prawns have turned pink, this will only take a few minutes.
Remove from heat, add coriander, spring onion, chilli, fish sauce and lime juice.
Serve at once.