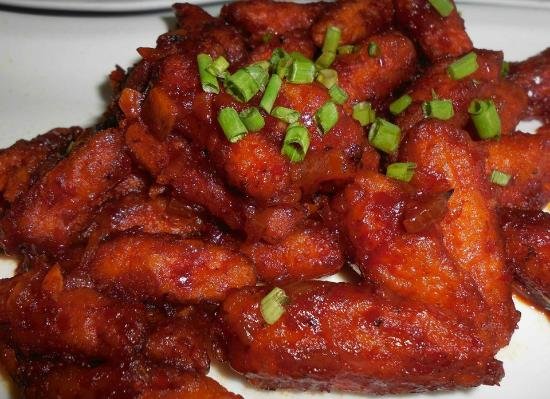 Crispy Baby Corn in hot garlic gravy
Ingredients:
20-25 baby corns
2 tablespoon corn flour
Oil for frying
Salt to taste
For Gravy
1/2 cup diced capsicum
1/2 cup diced onions
1/4 cup spring onion, sliced
5-6 chopped garlic
2-3 whole dry red chilies, break into two
1 tablespoon vinegar
4 tablespoon tomato sauce
1 tablespoon soya sauce or hot black bean paste
1 cup vegetable stock or water
2 tablespoon corn flour
1/2 teaspoon red chilli flakes
1 tablespoon oil
Salt to taste
Method:
1. Cut baby corn into 1 1/2 inch pieces. Sprinkle corn flour, salt and mix well.
2. Heat oil and deep fry baby corns until crisp.
3. Soak dried red chilies in vinegar and keep aside. Make a paste once chilies are soft.
4. Heat oil in a pan, saute garlic, onions, capsicum, spring onions until transparent.
5. Add soya sauce, tomato sauce, red chilli paste, salt and mix well.
6. Now add vegetable stock and bring to boil.
7. Mix cornflour in little water to make a smooth paste. Add this cornflour paste to the gravy and stir until the gravy thickens.
8. Add fried baby corn into the gravy and cook for 2 minutes.
9. Sprinkle red chilli flakes and serve hot.