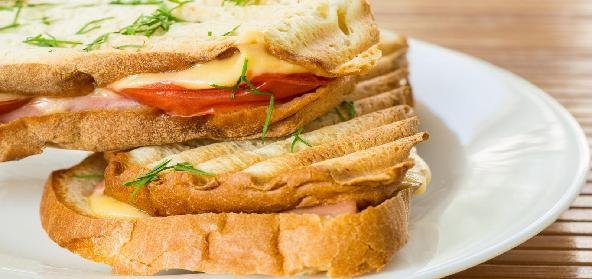 Ingredients:
• left over idlies 4
• green chili – 1 tsp, minced
• flour – 1.5 tbsp
• Milk – 200 ml
• grated cheddar cheese – 6 tbsp
• oil – 3 tbsp
• Butter – 2 tbsp
• Garlic – 1 tsp, minced
Method:
Slice each idly horizontally into two parts.
Grease a baking tray with oil.
Brush the idlies on both sides, with remaining oil.
Place them on the tray, cut side up.
Place in a preheated oven (200 degrees centigrade) till they begin to brown.
Meanwhile melt butter in a non-stick sauce pan.
Add garlic, fry till golden brown.
Add green chilies, fry for few seconds.
Add flour, fry for 30 seconds.
Remove from fire, stir in the milk, mix till smooth.
Place it back on fire and cook stirring till the sauce thickens.
Remove from fire, stir in ½ the cheese.
Take out the baking tray from the oven; spread the idlies with the prepared sauce.
Sprinkle remaining cheese on top. Return the tray to the oven and bake till the cheese melts.
Serve hot with mint chutney or tomato ketchup.