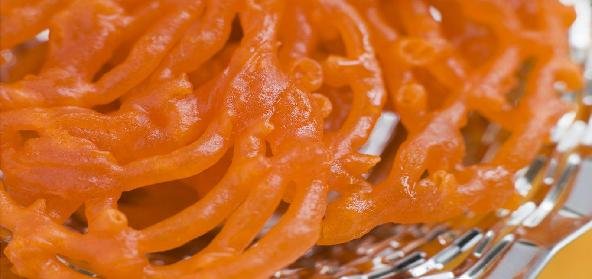 Ingredients:
• 2 cups – Urad Dal
• 2 tbsp – gram flour
• 2 cups – Sugar
• 1 cup – water
• A few drops – food colour
• Ghee for deep frying.
Method:
Wash and soak dal overnight.
Remove the skins of the dal.
Grind to a very fine paste, using minimal water, till light and fluffy.
Add colour, gram flour, mix well, keep aside for 3-4 hours.
Make sugar syrup of 1.5 thread consistency, from sugar and water.
Keep aside, till required.
Fill batter into a imarthi nozzle bottle, or in a thick cloth with a tiny hole at centre.
Hold cloth like a pouch.
Heat ghee in a flat bottomed, non-stick frying pan.
When smoky, reduce flame, make a circle of batter, and pipe oval ring like petals on its outside.
It should look like a round hollow centre, with petals all around.
Repeat for 2-3 depending on size of pan.
Fry on medium heat till crisp.
Remove drain well and put into hot syrup.
Drain, keep aside on mesh to remove excess syrup.
Cool completely before storing.
Recipe courtesy of Saroj Kering