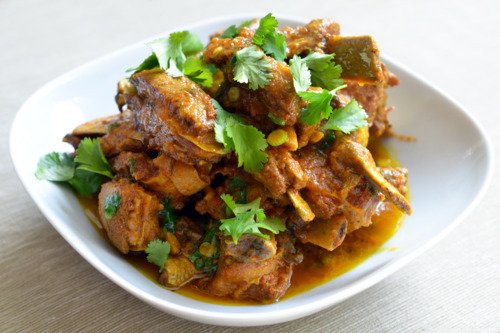 Traditional North Indian recipe. You can use born less meat to make this recipe but curry with lamb taste delicious. Lamb curry is served with Basmati rice and chapatti.
Ingredients:
– 1 small cubbed sweet potato
– 1 thinly sliced onion
– 1 kg lamb, trimmed and cubed
– 1 teaspoon chicken stock powder
– 1 tablespoon curry paste
– 300 gm can of chickpeas
– 3 cubbed zucchini
– 2 tablespoon fresh coriander or chopped parsley
How To Cook?
1. Place onion and curry parsley in a dish and cook for 1 minute on MEDIUM HIGH flame.
2. Place onion, lamb, sweet potato, chicken stock and stock powder into a 3 liter casserole dish.
3. Cover it and cook for 30 minutes on MEDIUM flame, stirring twice during cooking.
4. Add zucchini and cook for a further 1 to 2 minutes on HIGH flame.
5. Combine lamb, canned chickpeas and stock mixture in a 3 liter casserole dish and cover it.
7. Heat through for 6 to 8 minutes on MEDIUM flame.
8. Stir through coriander and server hot.
Preparation Time: 15 Minute
Cooking Time: 45 Minute
Servings: 4-6 Person