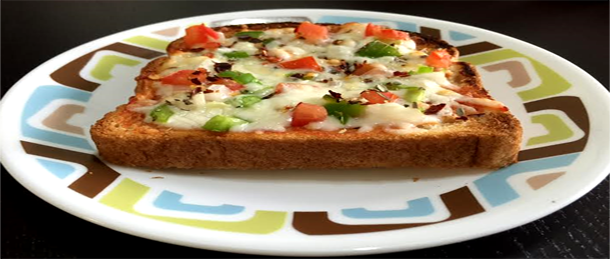 Ingredients:
• 6 – bread slices
• 1/4 cup – bell peppers( red/yellow /green), diced
• 1/6 cup – onions, diced
• 1/6 cup – tomato, diced
• 4 tbsps – Tomato ketchup
• 4 tbsps – cheese grated
• 1/2 tsp – black pepper, crushed
Method:
Take the bread slices and cut them into rounds with a katori or a lid.
You can use the whole slice of the bread, too.
Now arrange the bread on a baking tray.
Make sure it's lightly greased.
Now sprinkle cheese on all and add a little onions, tomatoes and bell peppers to them.
Put tomato ketchup on top, and finally, add some more cheese and a dash of black pepper.
Bake at 375 C for about 12 minutes till they turn golden brown.
Take out and serve hot.