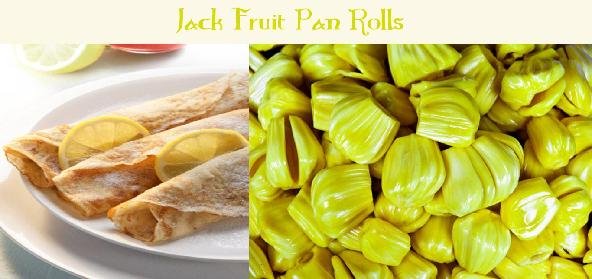 Ingredients:
• ripe jack fruit – 2 cup, finely chopped
• Sugar – 1/2 cup
• eggs 3
• Ghee – 1 tbsp
• Cardamom powder – 1/2 tsp
• flour (Maida) – 2 cup
• Milk – 1/2 cup
• water as needed
• salt to taste
Method:
Add 1/2 cup water to jack fruit and simmer till the fruit is soft but not mushy.
Add sugar and Ghee and continue to cook till it forms a soft spread.
Combine flour with lightly beaten eggs and milk till smooth.
Add salt and sugar.
Add enough water to make a batter of the consistency of thin cream.
Heat a non-stick skillet and pour about 1/2 cup of batter on it.
Tilt the pan so that the batter spreads into a thin pancake.
Pour a teaspoon of Ghee on it.
When the underside of the pancake is golden brown and top side is set and cooked, spread the pancake with some jack fruit mixture and fold to form a roll.
Transfer to a serving plate and serve hot, drizzled with honey.
Use all the batter and filling to make more pancakes.