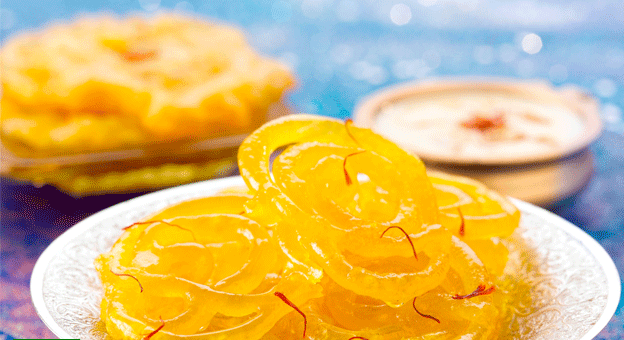 Jalabi is a delicious deep fried Indian sweet. Jalebi taste best when it served hot. Try out this homemade jalabi recipe which is very easy and delicious. Let's see how to make tasty Jalebi.
Ingredients:
– 200 gm maida
– 2 tablespoon gram flour (besan)
– 2 tablespoon yogurt
– 300 gm sugar
– 1 tablespoon cardamom powder
– A pinch of saffron (kesar)
– 1 cup warm water
– Ghee for frying
How To Cook?
1. Take a bowl and add maida, ghee, yogurt and warm water to it and make soft dough from it.
2. Blend them well and make a thick batter. When it's done, keep the batter in a steel bowl for 24 hours or overnight, till it's fermented. On next day, mix the batter well.
3. Now, add gram flour and saffron to the batter and mix it well.
4. Now, to make syrup, Take a bowl and add 2 cups water and add sugar and cardamom powder at MEDIUM heat until the sugar dissolves.
5. Let the sugar becomes thick then remove it from the heat and keep it aside.
6. Now, to make jalebis, preheat the ghee for deep frying. Takea disposable piping bag and Pour the batter into it. Make a small hole in the middle of the piping bag and squeeze out the batter in small circles into the hot ghee.
7. Make 3 to 4 circles for each jalebis.
8. Deep fry the jalebi on both sides until they become golden brown and crispy.
9. Once it ready, drain them off from the ghee and put them into the sugar syrup.
10. Put jalebis into the sugar syrup for 2-4 minutes then remove the extra syrup from it and serve hot.
Preparation Time: Overnight fermentation
Cooking Time: 45 Minutes
Servings: Makes 15 Pieces