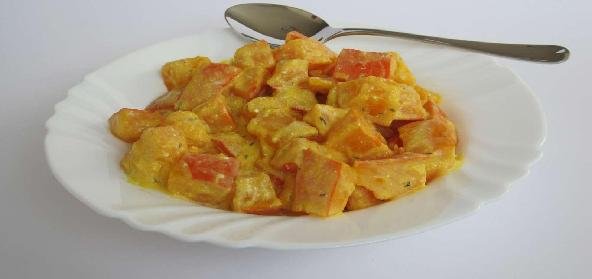 Ingredients:
• 500 g – Jhighe (Tori)
• 250 g – Red Pumpkin
• 2 – Onions, very finely sliced
• 1 tsp – Turmeric paste
• 1/4 tsp – chilli paste
• 2.5 tsp – Mustard paste
• 4 – green chillies, chopped fine
• 1/2 – coconut, grated
• Salt to taste
• 1/4 cup or 60 g – Mustard oil
• 6 – Banana leaves, cut to size for iron tawa
Method:
Peel the Jhinge and cut fine.
Add half a tsp salt and leave for a while.
With the addition of salt, the Jhinge will give out water.
Squeeze this out and keep aside.
Peel and cut the pumpkin into strips.
In a bowl, mix together the two vegetables and all the other ingredients.
Be cautious when adding salt because both the Jhinge and pumpkin reduce considerably when cooked.
Place the banana leaves cross-wise on the tawa and set this on the fire over medium heat.
Pour the vegetable mixture on to the banana leaves and cook, increasing heat towards end of cooking time until vegetables are cooked and oil comes to the surface.
Turn vegetables over once during cooking and smoothen over with the back of a spoon.
Recipe courtesy of Sify Bawarchi