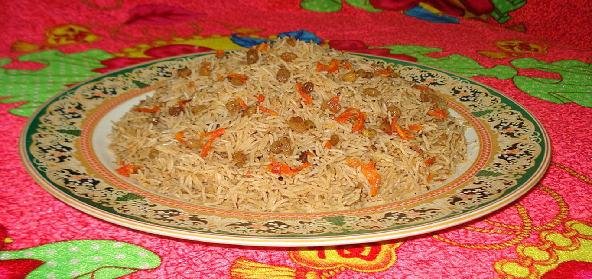 Ingredients:
• 1.5 cups – basmati rice, washed and soaked for 30 minutes
• 3 potatoes, peeled and sliced thinly
• 3 onions, sliced thinly
• 2 tbsp – coriander leaves, finely chopped
• 1 cup – Cauliflower florets
• 1 sweet potato, peeled and sliced thinly
• 2 tomatoes- sliced into rounds
• 1/2 cup – peas boiled
• 1 lemon, juice extracted
• 1/2 medium pomegranate, cleaned
• 1/4 cup – cashew nuts, halved
• 2 tbsp – Raisins
• 1 tsp – Red Chilli powder
• 1/2 tsp – Garam Masala
• 1/8 tsp – Turmeric powder
• Salt to taste
• 1/2 cup – Curd
• 1/2 cup – Milk
• 1/2 tsp – Cumin seeds
• 4-5 pinches asafetida
• 2 bay leaves, broken into 3 each
• 2 Cardamom pod, semi crushed
• 3 Cloves
• 1/2 stick cinnamon, crushed fine
• 5-6 tbsp – Ghee or refined oil
• 2 slices bread, cut in croutons
• Grind together to a paste:
• 4 Green chillies
• 10-12 Garlic Cloves
• 1/2 piece Ginger
Method:
Boil rice in plenty of water, with salt, bay leaves, cloves, cardamoms.
Cook rice until just done, so that each grain is separated and still not raw. Drain water, spread in a plate.
Dip raisins in hot water for 2-3 minutes, drain, keep aside.
Sprinkle 1 tsp ghee and pomegranate seeds, peas and raisins on rice.
Heat fat in a heavy pan, fry cashew nuts till light golden, drain, add to rice. Fry bread croutons, drain, add half to rice, keep the other half aside.
In same hot fat, add vegetables one at a time, drain and keep aside.
To the drained hot fat, add cumin and asafoetida, allow to splutter.
Add ground paste, saute for a minute.
Add curd, dry masalas, cinnamon, salt, and stir-fry till whiteness of curd is gone. Add vegetables and remaining croutons.
Stir, add coriander, lemon juice and mix lightly. Keep aside.
In a heavy bottomed deep handi, or similar container, smear some ghee or butter. Put one layer of rice, top with a layer of veggie mixture, followed by a layer of tomato slices. Repeat till all rice, mixture, tomatoes are used up. End with a top layer of rice.
Sprinkle milk evenly over the handi contents.
Cover, seal, and cook on very low fire for 5-7 minutes.
Serve piping hot as a rice dish for a dinner course.
Recipe courtesy of Saroj Kering