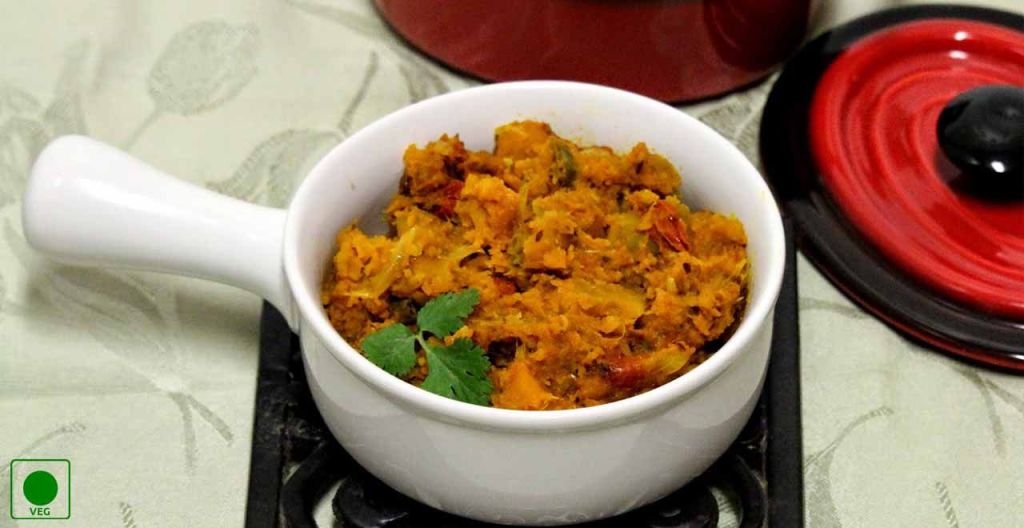 Kaddu Ki Sabji, it is one of the most delicious dish made from pumpkin. It is very simple and luscious sabji and the smell of it can make you hungry. In this recipe pumpkin cubes are cooked rigorously in various spices. This easy dish is cooked with so many different ways. Every household has its own unique way of cooking. During the fasting days, people have it with rajgira ke parathe or poori.
Ingredients
– 4 cups pumpkins cubes
– 3 whole dry red chilies
– 1/2 teaspoon fenugreek seeds
– 1 teaspoon cumin seeds
– 1/2 teaspoon turmeric powder
– 1/2 teaspoon red chilli powder
– 1 teaspoon raw mango powder (aamchur)
– 1/2 teaspoon sugar
– 2 tablespoons oil
– Salt to taste
How To Cook?
1. In a flat pan, heat the oil and add cumin seeds and fenugreek seeds. Let them splutter.
2. Add dry red chilies and saute it for about 30 seconds.
3. Now, add red chilli powder, turmeric powder and raw mango powder and cook for 2 minutes.
4. Then add pumpkin cubes, sugar and salt. Mix well.
5. Sprinkle a little water only if required and cook until pumpkin turns soft.
6. Your kaddu ki sabji is ready to eat.
Preparation Time: 5-10 Minutes
Cooking Time: 14-20 Minutes