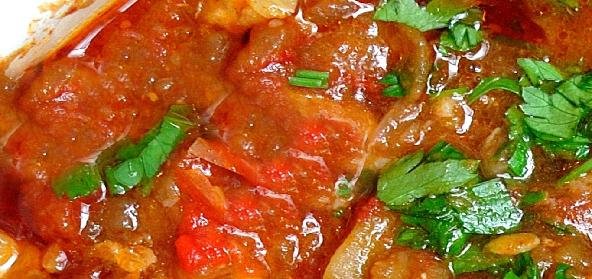 Ingredients:
• 3 cups – tomatoes, washed and chopped
• 2 tbsps – chopped Ginger
• 4 tsp – Garlic paste
• 4 tbsps – coriander seeds, pounded with a pestle
• 9 – whole red chillies, pounded with a pestle
• 1 tsp – Garam Masala
• 1 tbsp – dried rose petals
• 5 – green chillies, deseeded and chopped
• 5.5 tbsp – Ghee
• Salt to taste
Method:
Heat ghee in an iron-cast wok (kadai).
Add garlic paste and saute over low heat until light brown in colour.
Add the pounded coriander seeds and red chillies, saute for half a min, add the ginger and green chillies, saute for another half a min.
Now, add the chopped tomatoes until the ghee separates and floats on the surface.
Add the rose petals, salt and garam masala.
Stir and mix well.