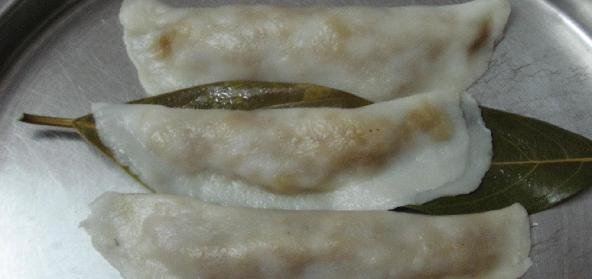 Ingredients:
• 2 cups – Rice
• 1 cup – Coconut (grated)
• 2 cups – Jaggery (powdered)
• 2 tsp – Ilaichi powder
• 3 cups – Water
Method:
Soak the rice overnight.
Drain out the water thoroughly and powder it in a blender.
The powder should be extremely fine.
Boil 1.5 cups of water in a kadai.
To this, add the rice powder and stir continuously to form a single dumpling.
Remove from stove and knead well, like chapati dough.
Pull out small balls and roll them into chapati like discs.
Place about 2 tsp of filling in the centre and fold the rice chapati.
Seal the ends with the help of some water.
Place the kadubu prepared on a plantain leaf and steam cook for about 7-9 mins.
Filling: Mix jaggery and coconut in a kadai and place it on a low heat flame.
Stir continuously until the jaggery melts and blends well with the grated coconut.
You can adjust the quantity of jaggery according to your taste.
Add ilaichi powder and remove the contents from the stove.