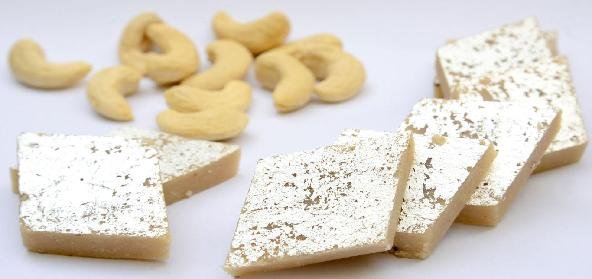 Ingredients:
• 500 g – khoya
• 150 g – Cashewnuts
• 2 tbsp – Milk
• 400 g – Sugar
• 1/2 tsp – Cardamom powder
• Silver foil
• A few halved cashews for garnishing
Method:
Dry grind the cashew.
Grate the khoya.
Mix khoya, milk and sugar.
Heat in a heavy pan, stirring continuously.
Once the sugar dissolves, add the cashew (powdered) and elaichi.
Cooking, constantly stir, till soft lump is formed and does not stick to sides.
Roll on a flat surface to desired thickness and apply silver foil.
Garnish with halved cashews.
Recipe courtesy of Saroj Kering