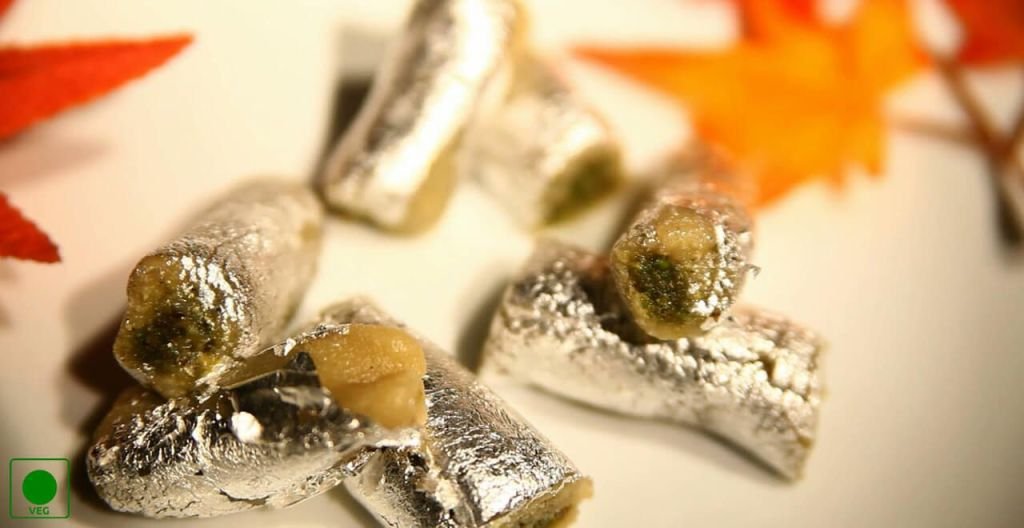 One of the most well-known of Indian sweet, the Kaju Pista Roll is as rich as a sweet can get. This delicious sweet is very quick to made and easily using recipe! You can prepare it within minutes to surprise even a sudden guest! If you are thinking that this will take too long to make then I promise you that try this quick kaju pista roll. It can be made in a jiffy and taste just as awesome as it looks.
Ingredients
– 1 cup cashew nuts, powdered
– 1/2 cup sugar
– 4 tablespoons water
– 2-3 teaspoons milk
– Ghee to grease your palms
For Stuffing:
– 4 tablespoons pistachios
– 1/8 cup sugar
How To Cook?
To Make Stuffing:
1. Roast pistachios for about 2 minutes and set aside to let it cool.
2. Grind pistachios along with sugar together to the coarse powder. Set aside.
To Make Outer Layer:
1. Place sugar in a heavy bottomed pan and also add 4 teaspoons of water to it. Keep checking it every half minute.
2. When sugar completely dissolved and let it boil until you drop a drop of sugar syrup in a bowl of water and if it get set on bottom of the bowl then the sugar syrup is ready.
3. Immediately add cashew nuts powder and mix them well. Make sure there are no lumps remains.
4. Over LOW heat stir it continuously for at least 3-4 minutes. Then turn off the flame and transfer this mixture to another bowl or plate and let it cool for about 10 minutes.
5. Now, grease some ghee on your palms and knead the cashew barfi dough for about 2 minutes or until all come out to a big ball shape.
6. Roll out this dough in a rectangle shape with rolling pin and spread pistachio filling over rectangular shaped dough.
7. Gently roll it over tight and roll it on a board with your palms to smoothen the roll without any cracks.
8. Trim this roll from the corners with knife.
9. Your Kaju Pista roll is ready to serve.
Preparation Time: 10 Minutes
Cooking Time: 30 Minutes