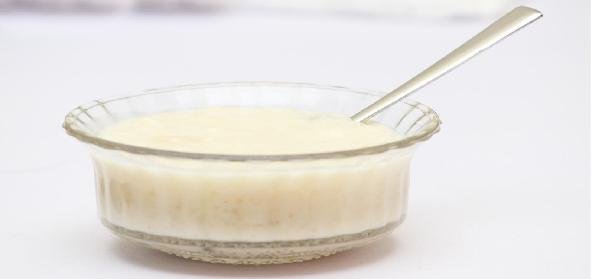 Ingredients:
• Raw Rice – 1/4 glass
• Milk – 1 litre
• Sugar – 1 glass
• Cardamom powder – 1/2 tsp
• Cashewnuts – a few
Method:
Heat a vessel and fry the rice for a few mins.
Pressure cook rice along with 1/2 litre milk in a vessel placed inside the cooker and after 3 whistles simmer it for 15 to 20 mins.
Take the vessel out, mash the rice, add the remaining 1/2 litre milk and place it in gas, on very low flame, stirring constantly.
After 5 mins when the pure white colour disappears, add sugar and stir continuously.
After all the sugar has dissolved and the mixture turns thicker, remove from flame, add cardamom powder, roasted cashews.
Serve hot.
Recipe courtesy of Madhu