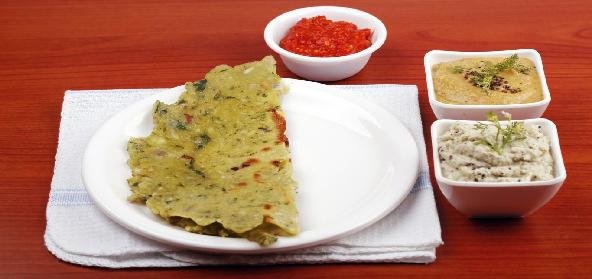 Ingredients:
• Basmati Rice – 1 cup
• Channa dal (kadalai paruppu) – 1 Cup
• Toor & Urad Dal together – 1/4 cup
• Red Chillies – 10
• Salt to taste
• Turmeric powder – 1 tsp
• Curry leaves – a few
• Grated Coconut – 4 tbsp
• Onions (finely cut) – 3
• Butter (optional) – 1 tbsp
• Oil – 2 tbsp
Method:
Soak rice for 4 to 5 hours. Soak all the dals together for 2 hours.
Grind rice, dals, red chillies, together into a coarse dough. It should be thicker than a normal 'dosai' dough.
Mix grated coconut, onion, curry leaves, salt and turmeric powder to the dough.
Heat a tawa and grease it with little oil.
Pour the dough in the tawa and spread it into a circle. Make a hole in the centre and another 5 holes a little distance from the centre.
Pour oil in each hole and on the adai to make it crispy.
Wait till it is golden reddish brown in colour and turn it.
Again pour oil in each hole and little on top of adai.
Serve with little butter on top while adai is hot.