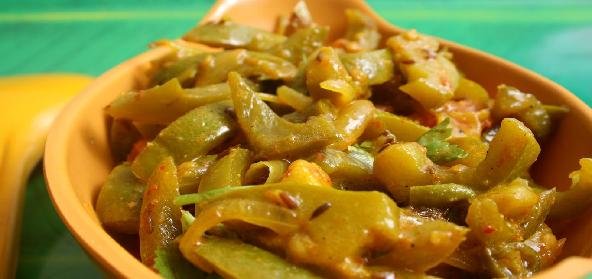 Ingredients:
• 1/4 kg – Karela
• 2 medium – boiled Potatoes
• 1 tbsp – oil
• 1/4 tsp each – mustard seeds, Hing and Turmeric powder
• 1 tsp each – Ginger and green chilli, finely chopped
• Salt and Sugar to taste
• 1 tsp – Lemon juice
Method:
Grate karela and put it in a piece of cloth and extract the juice.
Spread the grated karela in a big plate, sprinkle 1 tsp of oil and microwave it for 4 minutes.
Stirring in between, microwave it until it becomes crisp.
In a bowl, mix oil, mustard seeds, hing and turmeric and microwave it for 2 minutes.
Add ginger and chilli pieces and microwave it for 1 minute.
Peel the potatoes and cube them.
Add these cubes along with the karela.
Add salt and sugar to taste.
Stir and microwave for 2 minutes.
Add lemon juice and stir and garnish with fresh coriander.
Recipe courtesy of Vasundhara Parvate