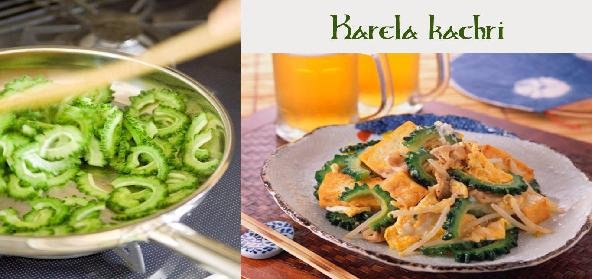 Ingredients:
• 500 gm – medium-sized Karela
• 250 gm – Onions (sliced
• 1/2 cup – oil
• 3 tsp – salt
• 2 tsp – coriander powder
• 1 tsp – chilli powder (or to taste)
• 2 tsp – Sugar
• 1 tbsp – Lemon juice
Method:
Scrape the karelas and cut in rounds. Rub 2 tsp salt on them and leave for about 5-6 hours.
Knead the karelas well with the hands till they become soft and the bitter water is removed.
Wash them 2-3 times with fresh water and squeeze well.
Heat the oil in a kadai and fry the onions at medium temperature till they are golden brown and crisp –
Remove and keep in a soup-strainer to drain the oil or keep on grease-proof paper.
In the same oil, add the karelas and fry at medium temperature till they become evenly brown.
Add about 1/2 tsp salt, coriander powder, chilli powder, sugar and lemon juice and add 2 tbsp of water to soften the karelas (if crisp karelas are required, do not add water).
Mix crisp fried onions before serving.