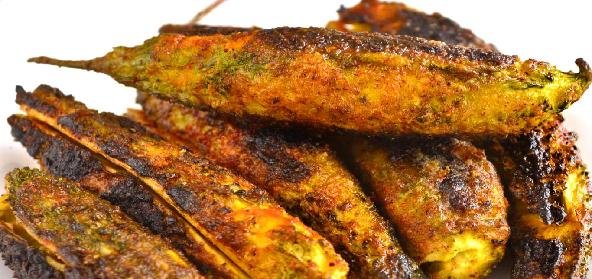 Ingredients:
• 1/2 kg – karelas (bitter gourd) they should be thin and long
• 5 medium sized Onions (finely chopped)
• 2 to 3 Green chillies (finely chopped)
• 4 medium sized Tomatoes (finely chopped)
• 1.5 tsp – red chillie powder
• 2 tsp – coriander powder
• 1/4 tsp – Turmeric powder
• 2 tbsp – Wheat flour
• 1 tbsp – finely chopped Coriander leaves
• oil for deep frying
• salt to taste
• 5 tbsp – oil
Method:
Peel off the skins of the karelas and wash well.
Make slits in the centre of the karelas.
Apply some salt and wheat flour, rub well and keep aside for an hour.
After an hour wash the karelas, squeeze out the water from them, and deep fry on a medium flame till they are tender and turn a shade of golden.
Keep them aside.
Heat oil in a kadai, add sliced onions and chopped green chillies.
Saute the onions on a low flame till they turn pink in colour.
Add chopped tomatoes, red chilli powder, coriander powder, turmeric powder and salt to taste to the onions.
Saute on a low flame till the tomatoes are soft and oil separates.
Add the kept aside fried karelas and mix well. Simmer for 5 minutes.
Garnish with finely chopped coriander leaves and serve with hot khichdi or brown rice or dal and chappati.
Recipe courtesy of Anita Raheja