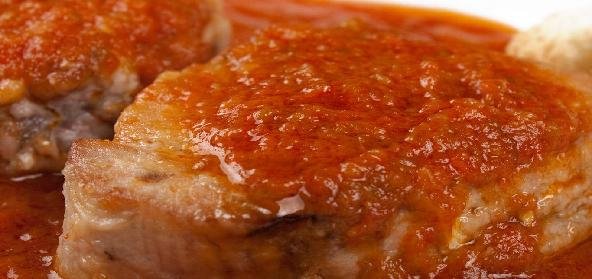 Ingredients:
• 1 kg-karimeen
• 1 tsp- chilli powder
• 1 tsp- Turmeric powder
• 1/2 tsp- pepper powder
• 1 tbsp-vinegar
• 1 tsp-salt
• oil for frying
• For the gravy: 1-onion big sliced
• 2 tbsp-ginger chopped
• 1 tbsp-garlic chopped
• 5-green chillies slit
• 2 sprigs-curry leaves
• 3 tsp-coriander powder
• 1 tsp-turmeric powder
• 1 tsp- pepper powder
• 2 cups- thin Coconut Milk
• 1 cup-thick Coconut Milk
• 2 tbsp-vinegar
• salt to taste
• 2 tbsp-coconut oil
Method:
In a vessel, mix together chilli powder, turmeric powder, pepper powder, vinegar and salt.
Smear this paste on the fish pieces and keep aside for half an hour.
Fry them in oil till light brown in colour.
Keep aside.
Heat oil in a large pan, fry onions, ginger, garlic, green chillies and curry leaves till the onion tuns light brown in colour.
Add coriander powder, turmeric powder and pepper power.
Fry for few seconds and add thin coconut milk, vinegar and salt.
Cover and cook till it boils.
Now add the fried pieces of fish.
Pour some gravy over the top of the fish pieces, cover and let it simmer for about 10 minutes on low flame.
Open the lid and add the thick coconut milk.
Mix gently or twist the pan.
When it is about to boil, put off the flame.
Serve hot.
Recipe courtesy of santhosh