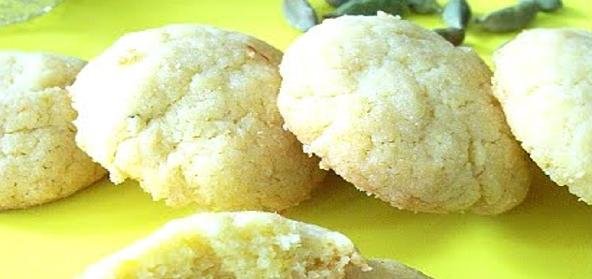 Ingredients:
• 100 g – Plain flour
• 100 g – Fine semolina
• 100g – Ghee or Melted Butter
• 100g – Powdered Sugar
• 1/4 tsp – Saffron soaked in warm Milk
• 1/4 tsp – Cardamom powder
• 1/4 tsp – Bicarbonate of soda.
Method:
Preheat the oven to 180 degree Celsius.
Meanwhile sift the flour and bicarbonate of soda in a large bowl.
Add the powdered sugar and mix well.
Now combine the ghee, cardamom and saffron and knead it into a dough.
Grease and line a baking sheet.
Now divide the dough into small portions.
Make balls out of the portions and flatten them between your palms.
Now place the flat portions on the baking sheet.
Bake in the preheated oven for 15 to 20 minutes.
Then leave it in the wire rack to cool.
Store in an air tight container.
Serve with milk/ tea.
Recipe courtesy of Ayeesha Riaz