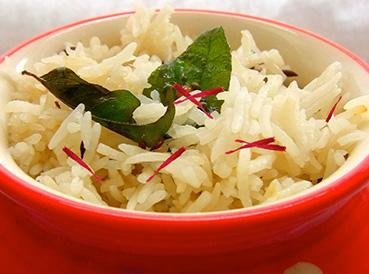 Kesar rice is the sweet rice recipe made with rice, castor sugar and saffron. The whole spices like cinnamon, cloves and other nuts like almond, elachi powder, pistachios gives amazing taste to the recipe.
Ingredients
– 500 gm basmati rice
– 500 gm castor sugar
– 1/2 cup almond
– A pinch of Saffron
– 1 teaspoon Elachi powder
– 1/2 cup pistachios
– 3-4 cloves
– 1 cup lemon juice
– Ghee
– 2-3 pieces of Cinnamon
How To Make?
1. Take a frying pan and add 4 tablespoon ghee to it. Now, add basmati rice to it and fry it.
2. Now, add some water to the rice and let it cook for 10 minutes.
3. Once the rice is cooked, remove it from the pan and spread it in a thali.
4. Now, take a small cup and add saffron to it, add 2 teaspoon water to it and mix it well.
5. Now this saffron water to the rice and mix it well. Add 1 teaspoon lemon juice to the rice and again mix it.
6. Now, in another frying pan, add 2 tablespoon ghee to it. Then add Cinnamon, cloves and fry it for 1 minute.
7. Then add saffron rice to the pan and add castor sugar to it and mix it.
8. Once the sugar is mixed with the rice remove the pan from the heat and add almond, pistachios, Elachi powder to it and covered it for 5 minutes. Mix the rice and serve hot.
Preparation Time: 10 Minute
Cooking Time: 25 Minutes
Servings: 6 Persons