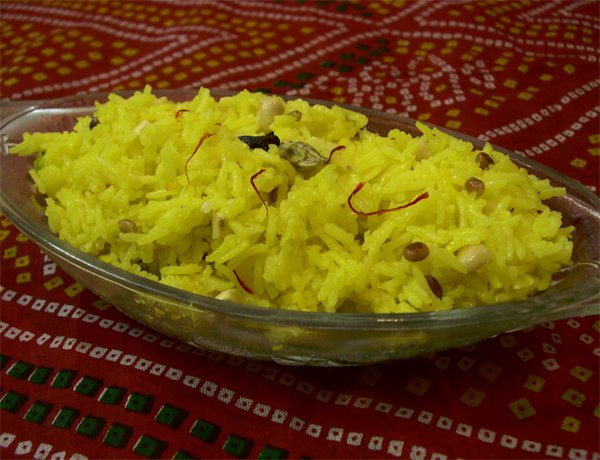 Sweet and fragrant rice made with rich dry fruits
Ingredients:
2 cups cooked basmati rice
2 tablespoon cashew nuts, slivered
1 tablespoon raisins
1 tablespoon pistachio, slivered
2-3 cloves
2 whole green cardamoms
Few strands of saffron (soaked in warm milk)
1/4 teaspoon green cardamom powder
Pinch of edible orange colour
1 tablespoon pure ghee
2 tablespoon water
1/2 cup sugar
Method:
1. Heat ghee in a deep pan or kadhai, add cloves, green cardamoms, water, sugar and colour.
2. Mix well and bring to a boil.
3. Now add cashew nuts, raisins, pistachios, dissolved saffron, rice and mix well.
4. Cover the pan and let it cook for 5-6 minutes over low heat, until all the water has been absorbed and the rice is cooked.
5. Finally mix cardamom powder and serve hot.
Cooking time: 20-25 minutes