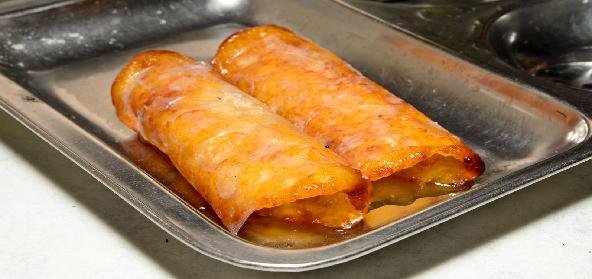 Ingredients:
• 250 g – fine Wheat flour
• 250 g – jaggery, grated
• 1/2 tsp – Cardamom powder
• 1.5 cup – water
• Ghee for Deep Frieding
• Few strands of Kesar
• For garnishing:
• chopped Almonds and Pistachios
Method:
Dissolve kesar in 2 tbsp warm milk.
Add water to jaggery and bring to a boil.
Boil till jaggery melts completely.
Take off heat and cool completely.
Add flour to the jaggery water.
Stir it well so that no lumps are formed.
Add more water if required to bring it to pouring consistency.
Beat for 5 to 7 mins so that the mixture becomes light and fluffy.
Add dissolved kesar to the mixture and keep it aside for 2 hours.
Place a Deep Frieding pan with lot of ghee in it.
When it is heated on low fire, gently lower 1 tbsp of the batter into the heated ghee.
Fry till golden brown on both sides.
Take out with a slotted spoon and place in a strainer so that the extra ghee drips down.
Fry the remaining batter similarly.
Garnish each malpua with almonds and pistachios.
Recipe courtesy of Saroj Kering