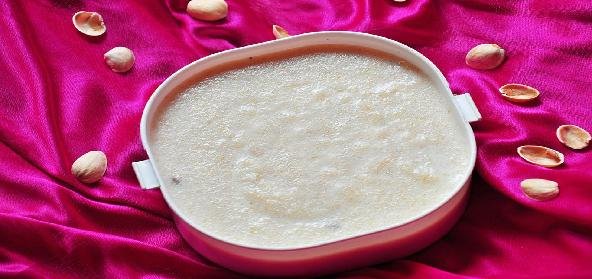 Ingredients:
• 1 tbsp -rice
• 1/2 cup -coconut scrapped
• 2 tbsp- Khaskhas
• 1 cup- Milk
• 1 tsp -cardamom powdered
• 1 tsp -coconut cut into small pieces
• 3/4 cup -jaggery powdered
• 1 tsp- Ghee
Method:
Soak rice, khaskhas separately in hot water for 10 minutes.
Grind these with coconut.
In a heavy bottom pan take little water and add the ground paste and mix well thoroughly without any lumps.
In another pan take the jaggery, add little water and keep stirring until it dissolves.
Now filter the jaggery and transfer it to the pan.
Once it starts boiling, add the khuskhus mixture to it.
After everything blends together switch off the stove.
Add boiled milk to the above.
Season with cardamom powder and coconut pieces fried in a little ghee.
Recipe courtesy of Prema