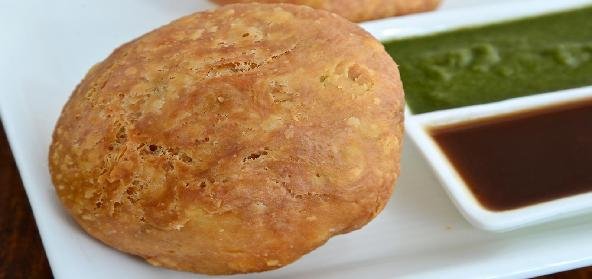 Ingredients:
• Moong dal-200 gms
• Maida- 250 gms
• Garam masala-1 tsp
• Haldi (Turmeric)-1/2 tsp
• Red Chilli powder-1 tsp
• Dhania powder-2 tsp
• Salt to taste
• Oil
Method:
Soak moong dal for 2 hrs and then grind it into semi-solid paste.
Put around 5 to 6 tsp of oil in pan and start frying the paste in it over slow flame.
Keep doing till it becomes golden brown and solidifies into small lump.
Grind it into fine powder.
Add all the masala and salt to this powder.
To the maida, add around 5 tsp of oil (to soften the maida) and salt and mix it well and knead into soft dough using lukewarm water.
Roll this maida dough into small circles and fill the mixture in it, seal it and roll it again lightly and fry it in oil till it is light brown.
Serve hot with sweet tamarind chutney or tomato sauce.
Recipe courtesy of Suman