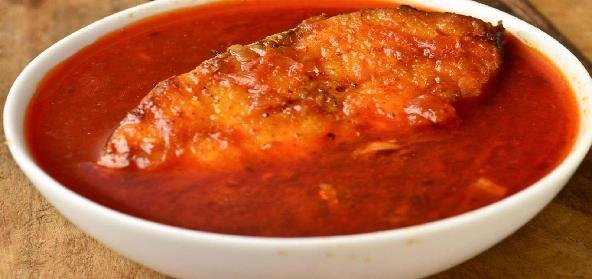 Ingredients:
• 1 kg – king fish/seer fish, cut into slices
• 2 big – onions, chopped finely
• 2 tsp – Garlic Ginger paste
• 1 cup – thick Coconut Milk
• 3 tsp – chilli powder
• 1 tsp – cumin powder
• 2 tsp – coriander powder
• 1/2 tsp – Turmeric powder
• Curry leaves
• salt
• 3 tbsp – oil
• 2 green chillies, slit
• 2 tbsp – chopped coriander
Method:
Wash the fish well and fry it lightly to make it firm.
Keep it aside.
Heat the oil in a shallow vessel and fry the curry leaves and onions till they are golden brown in colour.
Add the ginger, garlic paste, chilli powder, cumin powder, coriander powder, turmeric powder and a little water and fry it well for some time.
Add the coconut milk, salt, and a little more water and bring it to a boil.
Add the fish and cook for about 6 to 7 mins till the fish is firm.
Garnish it with chopped coriander leaves and slit green chillies.
Serve it with rice or chapattis.
Recipe courtesy of Bridget White