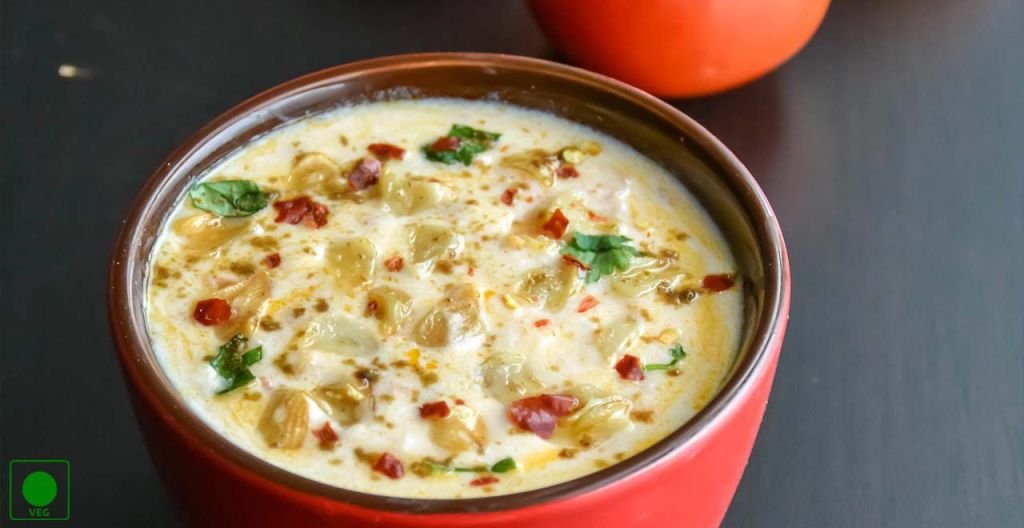 Kuddu Ka Raita is another raita recipe that I am going to share today. This raita is very beneficial for your digestion system because it helps in digesting the food. This mouthwatering raita dish is eatable to have during fasts. This healthful and tasty raita recipe is very easy to prepare. During fasts, this food-item can help in giving you a change. Do try it out today!
Ingredients:
– 2 cups finely chopped red pumpkin
– 1 teaspoon ghee
– 1 teaspoon cumin seeds
– 2 teaspoon finely chopped green chilies
– 1 teaspoon sugar
– 1 1/2 cups beaten curd
– 2 tablespoons milk
– Salt to taste
– 1 tablespoon crushed roasted peanuts, for garnishing
– 2 teaspoons finely chopped coriander leaves, for garnishing
How To Cook?
1. In a deep pan, heat ghee and add cumin seeds. Allow them to crackle.
2. Once cumin seeds crackled, add chopped pumpkin, sugar and salt. Mix well and cook it for about 6 minutes over medium heat by covering the pan. Stir it occasionally.
3. Now, add chopped green chilies and saute for a few seconds over medium heat.
4. Switch off the flame and set aside to cool for about 2 minutes.
5. Once it cool, mash the pumpkin pieces with using potato masher.
6. Then add curd to the mashed pumpkin and mix well.
7. Set this pumpkin and curd mixture in refrigerator for about 1 hour.
8. Garnish it with peanuts and coriander leaves and serve chilled.
Preparation Time: 10 Minutes
Cooking Time: 7 Minutes
Servings: 4 Persons