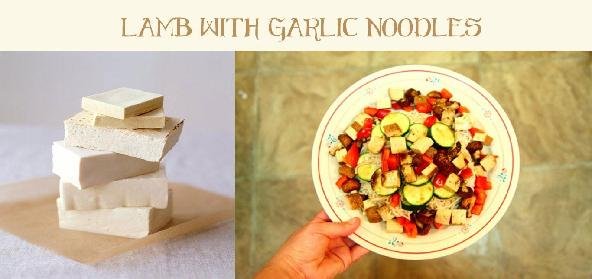 Ingredients:
• 500 g – lamb, cut into bite size pieces
• 2 tsp – cracked black pepper
• 1 tbsp – finely grated Lemon rind
• 1.5 cups (125ml) – Olive oil
• 250 g – udon noodles
• 1 tbsp – cider Vinegar
• 250 g – cherry tomatoes, halved
• 1.5 cups – fresh Basil leaves
• vegetable oil, for deep-frying
• 1 (200g) – Onion (large) , sliced thinly
• 1 medium bulb – garlic, peeled, chopped coarsely
• 1 – Egg yolk
• 2 tsp – water
• 2 tbsp – Lemon juice
• 1 cup (250ml) – Olive oil
Method:
Combine lamb pieces, pepper, rind and 2 tbsp of olive oil in a large bowl.
Cover lamb; refrigerate for 3 hours or overnight.
Cook lamb on heated oiled griddle (or grill or barbecue) until browned all over and cooked as desired.
Remove lamb, cover; stand 10 minutes.
Slice lamb thinly; cover to keep warm.
Cook noodles in large pan of boiling water, uncovered, until just tender; drain.
To make garlic mayonnaise, blend or process: garlic, egg yolk, water and juice until combined.
With motor operating, gradually pour in oil; process until thick.
Now combine the remaining olive oil, vinegar and 1 teaspoon of the Garlic Mayonnaise in jar; shake vinaigrette well.
Gently toss lamb, noodles, tomatoes and basil with vinaigrette in large bowl.
Heat vegetable oil in large pan; deep-fry onion rings, in batches, until browned and crisp.
Drain onion rings on absorbent paper.
Top noodles and lamb with onion rings and the remainder of the 1/3 cup of the garlic mayonnaise.