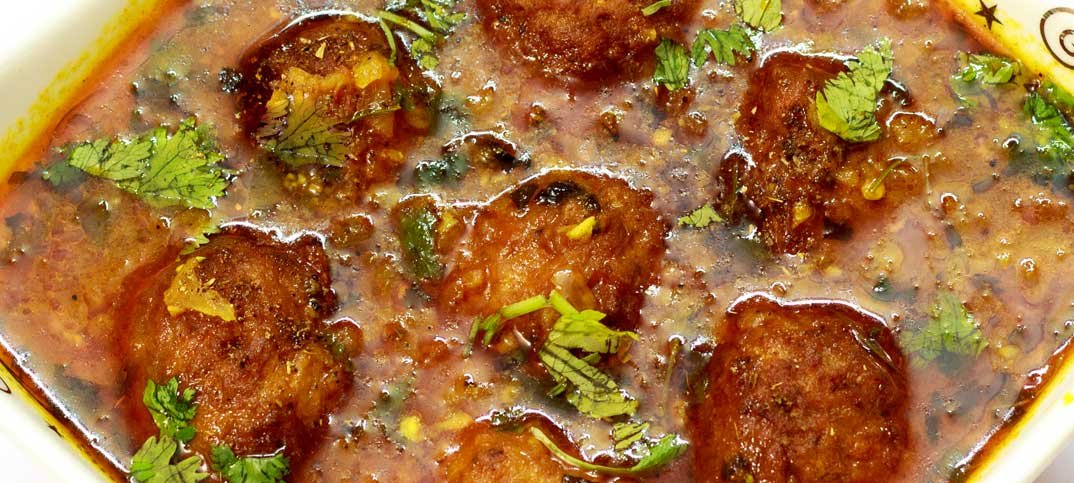 Delicious Lauki(ghiya) delicacy made in cashewnut paste without onion
Ingredients:
For Kofta
2 1/2 cups (500 gm) lauki or ghiya (bottlegourd)
3-4 tablespoon besan (gram flour) dry roasted
1 teaspoon red chilli powder
1/2 teaspoon ajwain (carom seeds)
1/4 teaspoon garam masala powder (optional)
1 teaspoon oil
Pinch of soda-bi-carbonate (baking powder)
Salt to taste
Oil for deep-frying
For Gravy
1 cup tomato puree
1/2 cup cashewnut (soaked in water for 15 minutes)
1/2 cup curd
2 tablespoon fresh cream
1/4 teaspoon cumin seeds
1 green cardamom
2 cloves
1 inch of cinnamon
1/4 teaspoon turmeric powder
1 teaspoon red chilli powder
2 teaspoon coriander powder
1 teaspoon kasoori methi (dry fenugreek leaves)
1/2 teaspoon garam masala
Chopped coriander leaves for garnishing
2-3 tablespoon oil
Salt to taste
Method:
1. Peel, grate and squeeze water out of the lauki. Reserve the drained lauki water as it can be used in the gravy.
2. Mix besan, red chilli powder, ajwain, garam masala, soda-bi-carbonate, salt and oil in lauki to make a thick mixture.
3. Shape into walnut sized balls (add some more besan if required).
4. Deep-fry koftas until golden brown over medium to high heat. Remove from oil and keep aside.
5. Grind cashewnut and yogurt into a smooth paste and keep aside.
6. Heat oil in a kadhai (pan), add jeera, cloves, cinnamon, cardamom and allow it to crackle.
7. Add tomato puree and fry until oil separates.
8. Now add coriander powder, red chilli powder, turmeric powder, garam masala and kasoori methi and fry for a minute.
9. Now add the cashewnut paste and sauté until oil separates.
10. Add water (use reserved lauki water) to make medium to thick gravy, bring to a boil and simmer for about 5-6 minutes.
11. Add cream and season with salt. Mix well.
12. Add koftas and mix gently to cover all the koftas with gravy and simmer for 2-5 minutes.
13. Now turn off the heat and cover for another 5 minutes.
14. Garnish with chopped coriander leaves.
Cooking time: 40-45 minutees