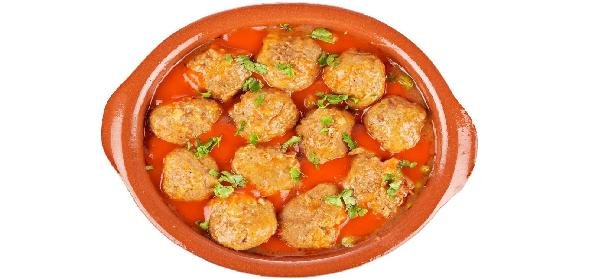 Ingredients:
• For Koftas:
• Peel the gourd, remove the core and coarsely grate the flesh
• grated Lauki (Sorakkai) – 2 cups, firmly packed
• Salt to taste
• Green chillies 2 to 3, finely chopped
• Ginger – 1 tsp, minced
• Besan (chickpeas flour) to bind
• oil to fry
• For gravy:
• Oil – 4 tbsp
• Onion – one and a half cup, finely sliced
• ginger-garlic paste – 2 tsp
• chilli powder – 1 tsp or to taste
• Turmeric powder – 1/2 tsp
• Tomatoes – one and a half cup
• Garam Masala powder – 1 tsp
• salt to taste
• fresh Cream or Malai to garnish
Method:
For Koftas:
Add salt to Lauki and keep aside for 10 minutes.
Drain out the juice and reserve.
Add chillies, ginger and enough besan to bind.
Shape into lime size balls and deep fry in moderately hot oil (take care to ensure that Koftas are not raw in the centre).
For gravy:
Heat oil and fry onions till dark brown.
Add ginger-garlic paste and fry well.
Add chilli and turmeric powder.
Fry for 1/2 minute.
Add tomatoes and fry till oil separates.
Add garam masala and remove from fire.
Cool the mixture and grind to a paste, using the Lauki juice.
Add water if necessary to form a creamy gravy.
Add salt. (The Lauki juice is salted .So taste and add salt only if needed)
Just before serving, simmer the gravy for 5 minutes and pour over the Koftas.
Garnish with cream or Malai.