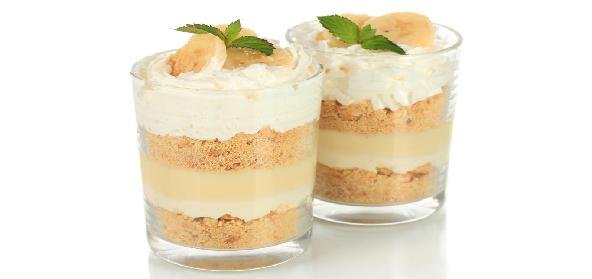 Ingredients:
• 1 cup – tied Curd (tied in muslin for 20 minutes)
• 1 cup – fresh Cream (chilled in beating container)
• 1/2 cup – Sugar powdered
• 2 ripe Bananas pureed fresh
• 1/4 packet Lemon jelly
• 4-5 drops vanilla essence
• Top layer:
• 2 bananas,1 Orange or Mango (optional)
• 1 tsp – Lemon juice
• 3/4 packet Lemon jelly
Method:
Bottom layer:
Put marie biscuits in a clean polythene bag.
Crush to crumbs with a mallet or pestle.
Remove into 6″ pudding bowl (flat bottom 2″ walls at least).
Add melted butter and mix well with hand.
Spread over bottom and press lightly.
Bake it in hot oven for 5 minutes. (or microwave on medium for 2 minutes)
Remove and cool to room temperature.
Keep aside.
Middle layer:
Beat curd with electric hand beater till smooth.
Dissolve jelly in 1/4 cup boiling water, dissolve till no crystals remain.
Cool to room temperature.
Beat chilled cream in chilled container with sugar till thick.
Keep aside 2 tbsp. for topping (optional).
Add beaten curd, vanilla essence, banana puree, mix well.
Add jelly, beat well in chilled container, till thick.
Pour over biscuit base, allow to set in refrigerator.
Top layer:
When curd layer is set, slice bananas as desired.
Sprinkle lemon, and toss lightly to coat evenly.
Arrange segments or orange or mango, and banana over curd layer.
Prepare lemon jelly as per packet instructions, cool to room temperature.
Pour over fruit, chill till well set.
Decorate with save beaten cream.
Recipe courtesy of Sify Bawarchi