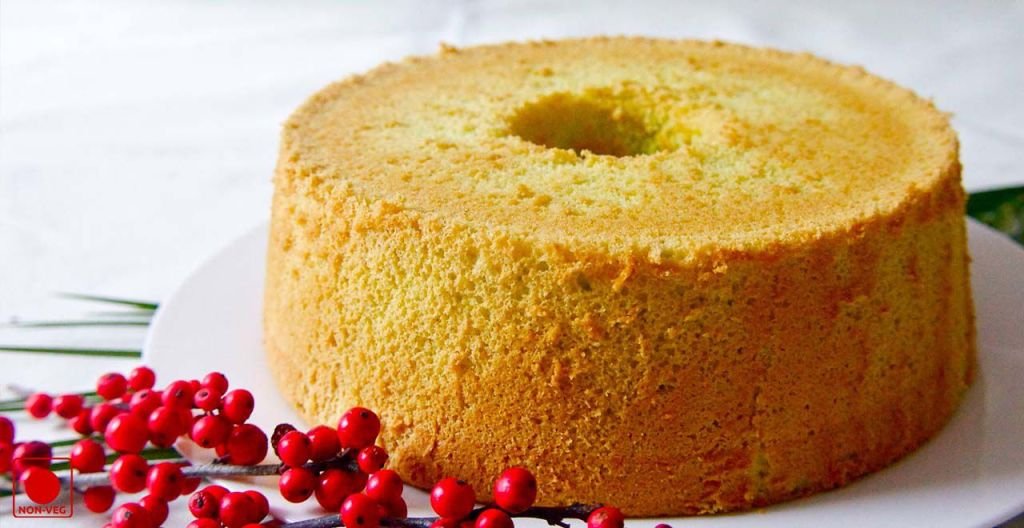 Lemon chiffon cake recipe is very lemony, light and moist cake recipe. The creamy filling gives you a lemon pie filling. Avoid to use butter to make a chiffon cake it makes your cake harder when refrigerated to instead using butter always prefer to use vegetable oil.
Ingredients:
– 2 cup sugar
– 6 eggs
– 2 cup all-purposed flour
– 1/2 cup vegetable oil
– 2 teaspoon vanilla extract
– 1 cup water
– 1 teaspoon oil
– 2 teaspoon baking powder
– 4 teaspoon lemon peel, grated
– 1/2 teaspoon cream
For Lemon Frosting
– 1/4 cup lemon juice
– 2 1/2 cup powdered sugar
– 1/3 cup butter
– 4 teaspoon grated lemon peel
How To Make?
1. Preheat oven to 175C.
2. In a bowl, mix sugar, flour, salt and baking powder.
3. In another bowl, whisk egg yolks, oil, water, vanilla extracts and lemon peel and beat them till it completely blended.
4. Add cream into the egg whites and beat them slowly until stiff peaks form. Wrinkle 1/4 of the whites into batter and then wrinkle in remaining whites.
5. Add this mixture into an ungreased tube pan. Spread the batter properly so no air pockets will be there in the mixture.
6. Now, bake this batter for 50 minutes, once it's ready immediately invert pan and let it cool totally.
7. Cut the cake from the around side and tube of the pan and remove cake from the pan and place it into the serving plate.
For Icing
1. In a small bowl, mix all lemon frosting Ingredients and beat them well.
2. spread this mixture over top of the cake and your lemon chiffon cake is ready to serve.
Preparation Time: 30 Minutes
Baking Time: 1 Hour
Servings: 12 Persons