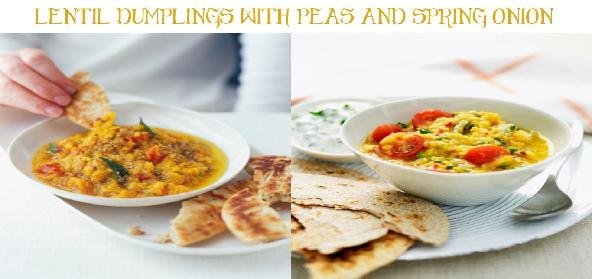 Ingredients:
• 200 gms – vadis, prepared out of lentils
• 200 gms – shelled peas
• 1 cup – browned Onion paste
• 1 cup – Tomato puree
• 1 cup – oil
• 1 cup – spring onions, mainly the green portion, cut into strips
• 2 tsp – ginger-garlic paste
• Since vadis are spicy we have not used spices in the recipe. But if you wish to enhance the spice level, you can use
• 1 tbsp. – coriander
• 1 tsp – cumin powder
• 1/2 tsp – Red Chilli powder
• salt to taste
Method:
Break the vadis into small pieces.
Heat oil and fry vadis over a low fire till crisp. Remove and keep aside.
In the same pan, add onion paste, ginger-garlic paste and spices.
Stir fry for 2 mins.
Mix in the tomato puree and the peas. Mix gently and add the fried vadis.
Continue to cook over a low fire stirring from time to time. Cook for another 3-4 mins.
Now, add 2-3 cups of water and pressure cook till the vadis are cooked and there is little or no gravy.
Move to a serving bowl, garnish with spring onions and serve with puris or parathas.