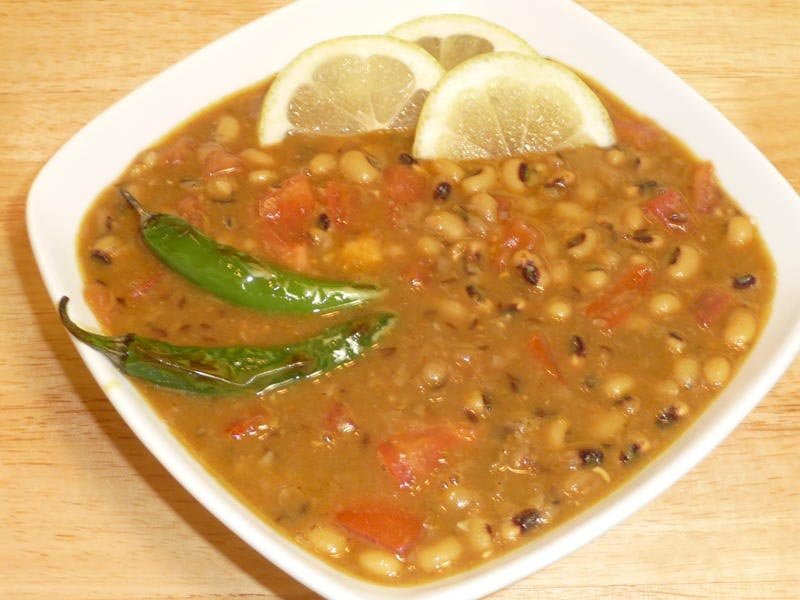 Black eye beans prepared in a spicy onion and tomato gravy
Ingredients:
1 cup lobia(black eye beans)
1 medium sized onion
3 green chilies
1 inch of ginger
1 cup tomato puree
1/2 teaspoon cumin seeds
1 small piece of cinnamon
1 black cardamom
1/2 teaspoon red chilli powder
1/4 teaspoon kasoori methi powder
1/2 teaspoon garam masala
3-4 tablespoon oil
Salt to taste
Method:
1. Soak the black eye beans overnight.
2. Next day, cook in a pressure cooker for half an hour with salt. Keep aside.
3. Make a paste with onion, ginger and green chilies.
4. Heat oil in a pan, add cumin seeds, cinnamon, black cardamom and fry for a minute.
5. Now add the onion paste and fry until golden brown.
6. Add tomato puree and fry until oil separates.
7. Now add red chilli powder, kasoori methi, garam masala powder and fry for 2 minutes.
8. Add just enough water to make thick gravy.
9. Now add the gravy into the boiled black eye beans. Add salt and bring the gravy to a boil.
10. Let the lobiya simmer until gravy is thick.
Cooking time: 35-40 minutes