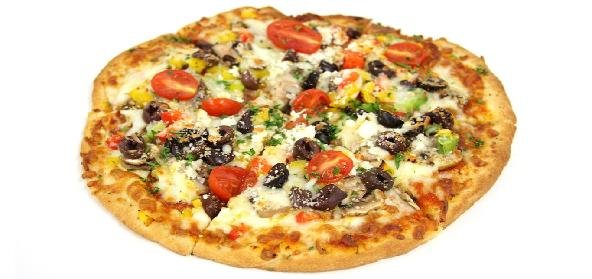 Ingredients:
• For whole Wheat pizza dough:
• 1 tsp – granulated Sugar
• 8 fl oz. – warm water
• 1 packet – active Dry yeast or 1 tbsp./15 ml 8 oz. – plain, strong flour
• 8 oz. – whole Wheat floor
• 1 tsp – salt to taste
• 2 tbsp – vegetable oil
• For pizza toppings:
• 8 fl oz. – Tomato sauce or chopped Tomatoes
• 1 tbsp – garlic, finely chopped
• 1 tsp – oil
• 3 – onion, sliced
• 8 oz – mushroom, sliced
• 1/4 cup – cooked Chicken pieces
• Salt and freshly ground pepper
• 1 lb – Broccoli
• 1 lb – grated mozzarella cheese
Method:
In large mixing bowl, dissolve sugar in warm water.
Sprinkle yeast over water and let it stand for 10 minutes or until foamy.
Meanwhile, combine flours and salt.
Stir oil into foamy yeast mixture.
Stir in about half the flour mixture.
Add more flour, mix it until dough can be gathered into a slightly sticky ball. (you may need a little more or less than 1 lb/450 g of flour)
On lightly flatten surface, knead dough for about 5 minutes or until smooth and elastic.
Add more flour as necessary, to prevent dough from sticking to work surface.
Cut dough in half, cover with grease-proof paper and let rest for 10 minutes.
Use a rolling pin to roll each piece of dough into a 12 inch/30 cm circle, about 1/4 inch/5 mm thick.
Transfer rounds to 2 lightly oiled pizza pans or baking sheets.
Carefully, using fingers, stretch dough into large circles.
Let dough rise for about 15 minutes before adding toppings.
For a thicker crust, let dough rise for 30 minutes.
Add toppings just before baking.
Makes 12 inch/30 cm pizza rounds.
For pizza dough:
In small bowl, combine tomato sauce, garlic, oregano and basil.
Stir to mix.
In a heavy frying pan, heat oil over medium heat.
Add onions and cook over medium to low heat, stirring until tender for 5 to 10 minutes.
Add mushrooms and cook over medium heat, stirring or shaking pan until mushrooms color changes to brown and liquid has evaporated.
Sprinkle with salt and pepper to taste and set aside.
In a large pot of boiling water, cook broccoli for 2 minutes or until bright green.
Drain and cool under cold running water to prevent from losing green color.
Drain and cool under cold running water to prevent any further cooking.
Drain again and set aside.
Spread tomato with mushroom, chicken pieces and onion mixture.
Sprinkle with grated cheese.
Bake in 425 degrees C oven for 30 to 40 minutes or until crust is browned and top is bubbly.
This makes 2 pizzas.