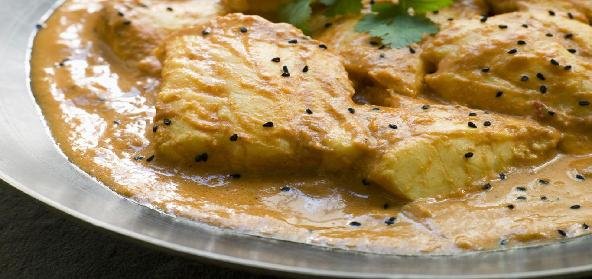 Ingredients:
• 500 g – hilsa or rohu
• 1 small – cauliflower, broken into flowerets
• 150 g – shelled Green peas
• 100 g – peeled small Potatoes
• 2 – big Onions
• 1 inch piece – Ginger
• 1 tsp – Turmeric powder
• 4 flakes – Garlic
• 1 big cup – beaten curds
• 1 tsp – Garam Masala
• 1/2 tsp – Cardamom powder
• a few springs of Coriander leaves
• salt and chilli powder to taste
Method:
Clean, wash and cut the fish into slices, fry to a nice almond colour in mustard oil and set aside.
Grind onions, garlic and ginger to a paste.
Heat 4 tbsps. mustard oil and fry the onion paste till oil floats to the top.
Add all the vegetables and fry for 5 minutes.
Put in the curd, all the spices and salt and cook till the curd turn dry.
Cover with hot water and cook till the vegetables are almost done.
Put in the fish and continue cooking till both the vegetables and the fish are done.
Serve decorated with coriander leaves.