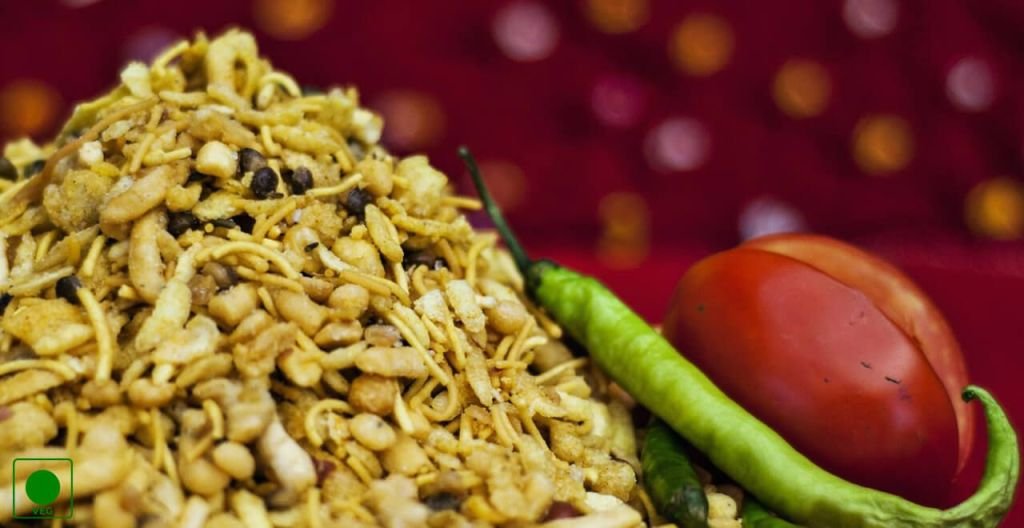 Madras Mixture is very popular South Indian Mixture. It is very popular Diwali snack in south region of India. This is a crunchy, light and very tasty snack. This snack can be enjoyed by all and served this snack during many festivals including Diwali. This chatpata snack is very easy and quickly made by very few Ingredients. You should try this snack at your home at least a once!
Ingredients
– 1 cup masala boondi
– 1 cup omapodi
– 1/4 cup poha
– 1/4 cup gram dal
– 3 tablespoons cashew nuts, broken into pieces
– A handful curry leaves
– 1 teaspoon red chili powder
– Asafetida as required
– Salt to taste
– Oil for frying
How To Cook?
1. Heat sufficient oil in a pan.
2. Deep fry peanuts and curry leaves until crisp, then deep fry poha in the same oil.
3. After that deep fry the dal until light golden and crisp. Also deep fry the cashew nuts until golden in color.
4. Place this all fried Ingredients on an absorbent paper.
5. In a large bowl place this all fried Ingredients along with masala boondi, ompodi, red chili powder, asafoetida and salt. Toss everything well.
6. Your Madras Mixture is ready to serve. Store it in an airtight container.
Preparation Time: 10 Minutes
Cooking Time: 20 Minutes