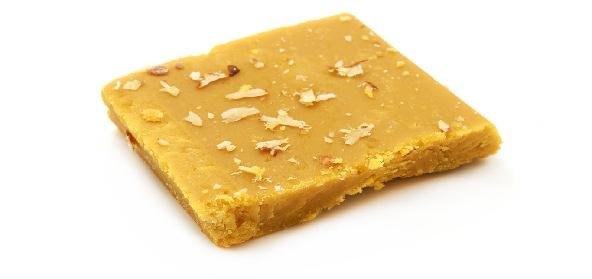 Ingredients:
• 1 pound – unsalted Butter
• 3 cups – besan
• 3/4 cups – rava
• 3 cups – Sugar
• 1 tbsp – Milk
• Chopped Pistachios and Almonds
• Some Cardamom
Method:
Boil the unsalted butter into ghee on a low heat.
Add one tbsp milk and ghee into the besan and mix well.
Sieve the besan for lumps in the flour.
Add the besan to the ghee and stir it on low heat.
Keep stirring till the besan turns brown and separates a little from the ghee.
Add the rava and keep stirring till it turns brown.
Add sugar and keep stirring.
Empty the whole mixture into a plate (no need to grease it).
Sprinkle pistachios, almonds and crushed cardamom on top after it cools a little.
After it cools completely, cut it into pieces.
Recipe courtesy of Sify Bawarchi