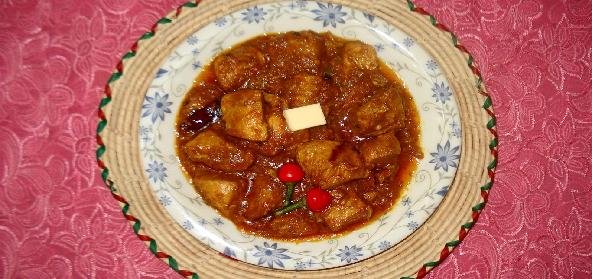 Ingredients:
• For Makhani Murg:
• 115 gms – Butter or pure Ghee
• 1.5 tsp – Garam Masala
• 1 cooked tandoori Chicken (680 gms. approx. in weight)
• 1.5 tsp – red pepper
• 2 to 3 green chilli, finely cut
• 4 oz Tomatoes (cut into quarters)
• 1.5 tsp – roasted ground Black cumin seeds
• 1 tbsp – finely chopped fresh Coriander leaves or Parsley
• 1.5 oz shredded Ginger
• For Sauce:
• 60 gms – Butter or pure Ghee
• 4 thick Cream or double Cream
• 455 gms – Tomatoes
• 2 dessert spoonful – Lemon juice
• 1 tsp – red pepper
• 4 tsp – Sugar
• 1.5 to 2 level tsp – salt
Method:
For the Murg:
Prepare a tandoori chicken and carve it into neat pieces.
Heat 3 oz butter and fry lightly a few pieces of the chicken at a time.
When the whole of the chicken is done, remove the butter from the fire, and add to it 1.5 teaspoonful red pepper.
Stir, mix the tomato sauce as prepared above and cook for about 5 mins.
Add the fried chicken pieces, quarters of tomatoes, shredded ginger and green chillies.
Simmer for 10 mins or till the flavour of the sauce penetrates.
Remove from the heat and put on 1 oz. of melted butter.
Sprinkle roasted black cumin seeds, garam masala and finely chopped fresh coriander leaves or parsley.
Serve immediately.
For the Sauce:
Heat the butter or ghee.
Remove from the fire; add 1 teaspoonful red pepper, 455 gems roughly cut tomatoes, salt and sugar.
Cook uncovered for about 15 mins on quick fire. Pass through a fine sieve.
Beat the cream and mix it with the tomato puree.
Add lemon juice and cook for another 2 to 3 mins.
Remove from the fire and leave it covered till needed.