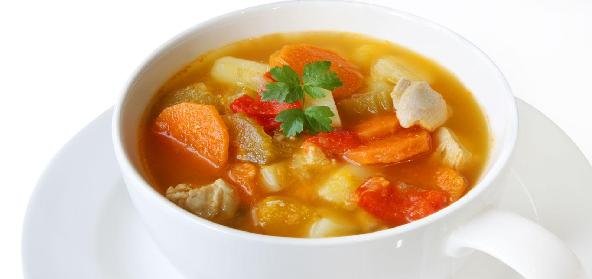 Ingredients:
• 1 cup – raw Chicken meat, cut into thin strips
• 1 cup – Mushrooms sliced
• 1/2 cup – carrots, sliced
• 1 cup – sliced Celery
• 1/2 cup – sliced Spinach
• 8 cups – Chicken stock
• 1 tsp – ajinomotto
• 1 egg, slightly beaten
• 2 tbsps – cornstarch
• salt and pepper to taste
• sesame oil
Method:
Heat 4 tbsps. of sesame oil and fry the chicken to a red colour. Add all the vegetables with the exception of spinach, fry for a few minutes then cover tightly and cook till the vegetables are almost done.
Pour in the stock and add spinach and ajinomotto and cook for 5 mins.
Then add cornstarch made into a thin paste with little water.
Cook till soup turns little thick, mix in the egg and stir quickly for 1 minute.
Remove from fire and season it with salt and pepper.
Serve piping hot.