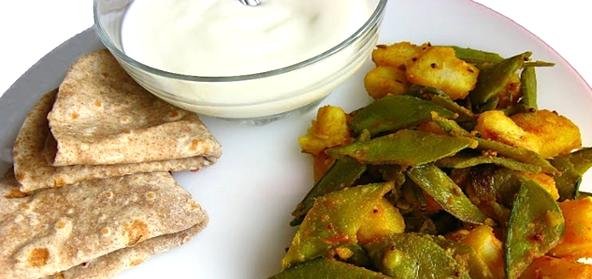 Ingredients:
• Mangetout – 300 grams
• Potatoes – 2 large
• Oil – ½ tbsp
• Mustard Seeds – ½ tsp
• Cumin seeds – ½ tsp
• Turmeric powder – ¼ tsp
• Kashmiri Chili Powder – 1 or 2 tsp
Method:
Cut the ends of the pods and slice diagonally.
Peel and cut potatoes into 1×1 inch cubes.
Heat oil in non-stick pan. Add and allow the mustard seeds to pop.
Add cumin seeds and potatoes. Stir fry for about 10 mins on low flame covered.
Add mangetout, turmeric and chili powder and mix well. Cover and cook for another 5 mins.
Leave it covered till ready to serve.
Serve hot with chappatis or naan and fresh yoghurt.